Australian first in sustainability at ICC Sydney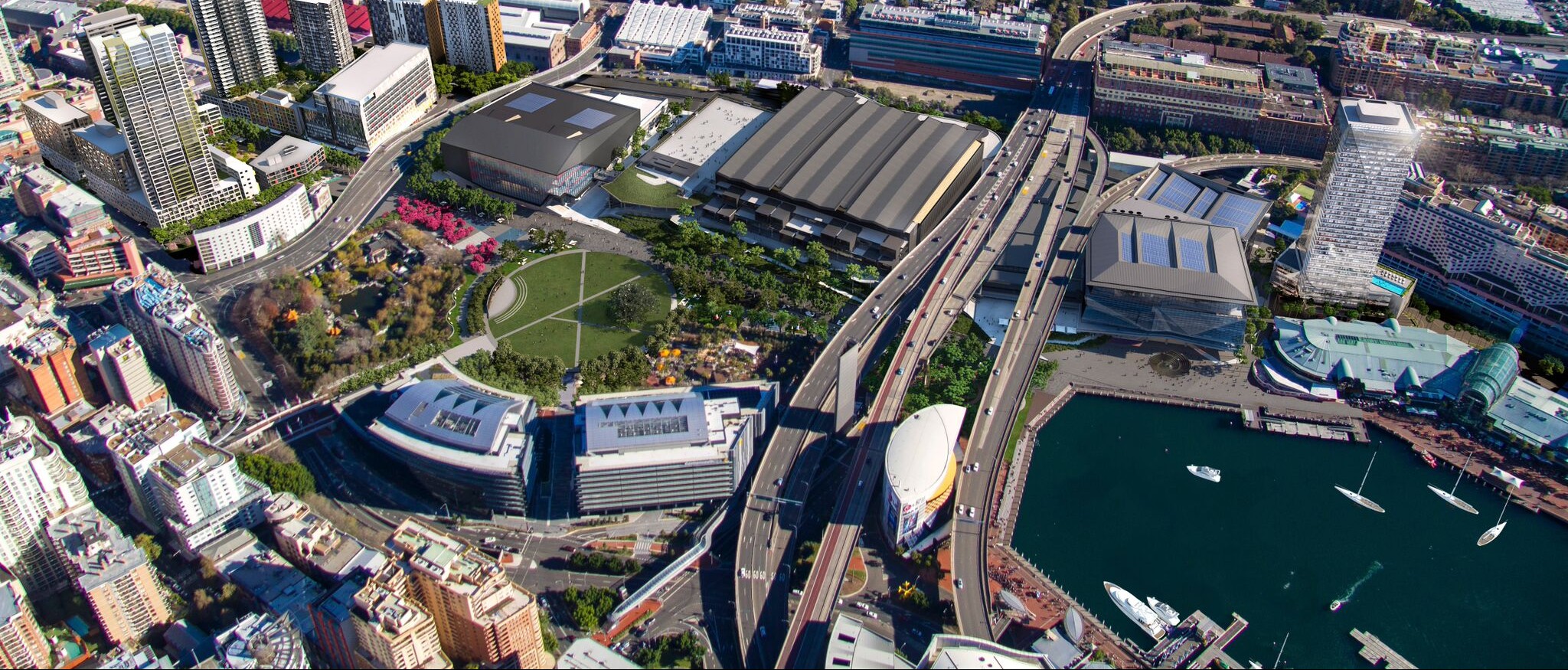 An innovative sustainability initiative will see the International Convention Centre Sydney (ICC Sydney) become home to the first community-funded solar energy project of its kind in Australia. One of Australia's largest solar arrays within a central business district is being erected onto the roof of ICC Sydney to generate power for the new venue. Members of the public can buy shares in the social venture that will own the solar array, Sydney Renewable Power Company.
Under construction and opening in December 2016, ICC Sydney is being developed through a Public Private Partnership (PPP) with the New South Wales Government and Darling Harbour Live (comprising Lendlease, HOSTPLUS, Capella Capital, AEG Ogden and Spotless). Lendlease, who is designing and constructing the venue and associated public realm and connections, will install a solar array supplied by Canadian Solar Inc. onto the rooves of the theatre and convention buildings.
General Manager, Darling Harbour Live, David Lovell said, "We are very proud to be delivering this Australian-first sustainability initiative at ICC Sydney. The social venture allows people to participate in funding renewable energy and is another way we can engage with the local community who have been very supportive of this important State Government project at Darling Harbour."
"The solar array will produce enough for approximately 5 per cent of the energy required for the facilities which is equivalent to powering more than 100 homes every year."
"This initiative is only one of the ways we are creating a socially responsible and environmentally sensitive convention, exhibition and entertainment hub that we believe will set new benchmarks for sustainability in Australia."
"We are the first Australian convention and exhibition facility registered with the US Green Building Council for the internationally recognised LEED® green building certification (LEED = Leadership in Energy and Environmental Design) and we are targeting a Gold Certification. During construction, we have a target of 90 per cent material diversion of waste to landfill and we have already exceeded that target in the demolition phase."
"Once built, ICC Sydney is expected to operate with optimal resource efficiency because of smart design strategies integrated with cost efficient and renewable technologies."
"The public spaces at Darling Harbour are also very important to the experience that the precinct will offer visitors. A renewed and upgraded public domain will see a reconfiguration of Tumbalong Park, providing an additional 3,000sqm of green space as well as a new adaptable event space capable of hosting up to 27,000 people. A new pedestrian boulevard will connect the harbourfront to the south and Central station. In addition, new and improved access links will better connect the student precinct of the University of Technology Sydney in Ultimo and the media and arts hub of neighbouring Pyrmont as well as the city centre."