Sunshine Coast University Hospital – Construction Update 2016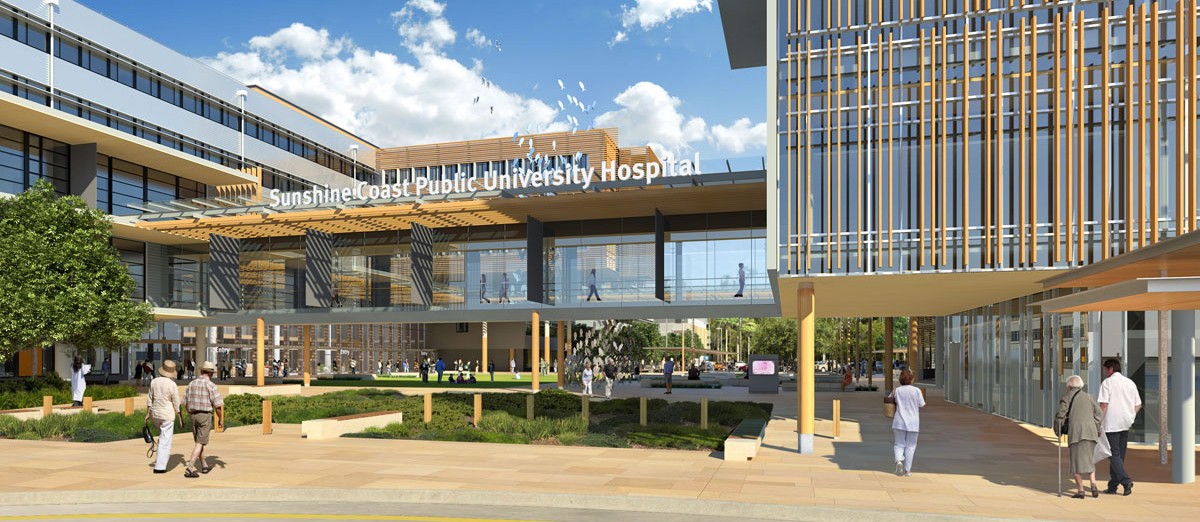 Construction on the $1.8 billion Sunshine Coast University Hospital remains on schedule for completion in August 2016.
On 16 March the last of the 10 tower cranes was dismantled and removed from the hospital site. This marked the lead-up to an important milestone, with substantial completion of the Main Hospital Building internal fit-certfied by the Sub IR on 19 April. Substantial completion means ceilings, internal walls, floor finishes and painting will be finished on all levels of the Main Hospital Building. It also includes the installation of services such as general power outlets and data points. There are more than 38,000 data outlets and about 250,000 metres of data cabling throughout the facility.
The final tower crane decommissioning also signalled the end of the helipad installation. This structure is now complete, and incorporates the deck, mesh protection, fire and drainage systems and painting.
Feature ceilings and tiling in the Main Hospital Building internal 'hospital street' will be finished by the end of April, along with the glazing in the Outdoor Room. The first pieces of major medical equipment, the Linear Accelerators have been delivered to site and installation is underway. MRI's will be delivered to the hospital site by end of April.
Services and system testing is now underway, with the building entering full commissioning mode. By end-April, the Outdoor Room, the area located between the main entry and education building, will have all roof steel installed, with facade timber battens installation commenced. The mental health unit will have 80 percent of landscaping completed and be nearly 100 percent validated by May. The 100-place child care centre located on Level 7 of the multi-deck carpark is close to completion, with substantial completion of P1 car park expected mid-May.