Sydney's International Convention Centre Wins Australia's Project of the Year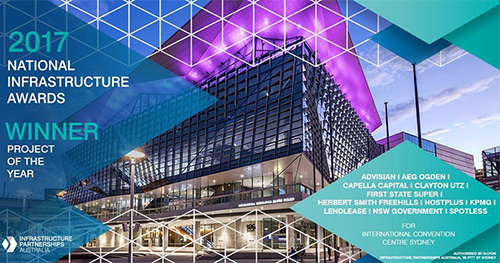 Sydney's $1.5 billion International Convention Centre (ICC) has been judged Australia's best project at Infrastructure Partnerships Australia's National Infrastructure Awards in Sydney.
"The new convention centre transforms Sydney and equips Australia to compete with Shanghai, Hong Kong and Singapore for the lucrative convention dollar. This was judged the best infrastructure project because of its excellent design, prudent construction and outstanding financial performance, all while
delivering the nation a new and emblematic piece of tourism infrastructure.
ICC Sydney is the biggest combined exhibition, convention and entertainment precinct in Australia, and was successfully delivered on budget, and ahead of schedule. But the ICC Sydney is more than a good building or a good precinct, it reflects the major renewal of infrastructure that is now underway in New South Wales. The International Convention Centre was the first major project started by the O'Farrell Government, off the back of asset recycling so it's also an emblem of the renewal that's possible when governments are willing to explain and lead change.
Our warm congratulations to the NSW Government, the Darling Harbour Live consortium and its partners on this major win." Brendan Lyon, Chief Executive, Infrastructure Partnerships Australia.
Malcom Macintyre, Director, Capella Capital: "We are thrilled to have won Best Infrastructure Project at Infrastructure Australia's National Infrastructure Awards for International Convention Centre Sydney. The Darling Harbour Live consortium is proud to have delivered this world class project on behalf of the NSW State Government, and are thankful for the opportunity to partner with the government to revitalise Darling Harbour for the people of Sydney.
The Darling Harbour Live consortium comprises Lendlease, Hostplus, First State Super, Capella Capital, AEG Ogden and Spotless FM, thank you to all our important partners for their efforts on this project. Every person involved in this significant project should be proud of this award win, and the part they have played in creating a great place that locals and tourists will enjoy for generations to come."
The National Infrastructure Awards are presented each year across seven project categories and are awarded by an independent judging panel of senior government officials. The Project of the Year is the most prestigious of the Awards.